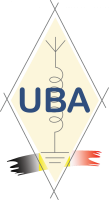 Log in to UBA's online learning environment for radio amateurs
No access to the online learning environment?
The online learning environment for radioamateurs is reserved for members of the UBA (Belgian Amateur Radio Society).
If you, as a UBA member, do not (yet) have access to the online learning environment, you must authenticate your username and password. This must be done if you want access for the first time, after changing your password or if your UBA membership was temporarily interrupted.

After authentication you can then log in with the same username and password that are valid for the UBA website.

If you wish to become a member of UBA you can find the necessary information here.

Some courses may allow guest access